Does a Chania sunset cruise sound like a dream come true? Welcome aboard, romantics and adventurers alike, as we embark on a journey into the heart of Chania's enchanting sunsets. Our team, Crown Cruises Crete, believes that a sunset cruise isn't just a boat ride. It's a voyage into the realm of romance! A voyage where the sky becomes a canvas and the sunsets are poetry in motion. As a great provider of luxury experiences, we invite you to discover the magic of this beautiful city on the island of Crete.
Let's explore why this experience deserves a prime spot at the top of your must-do list!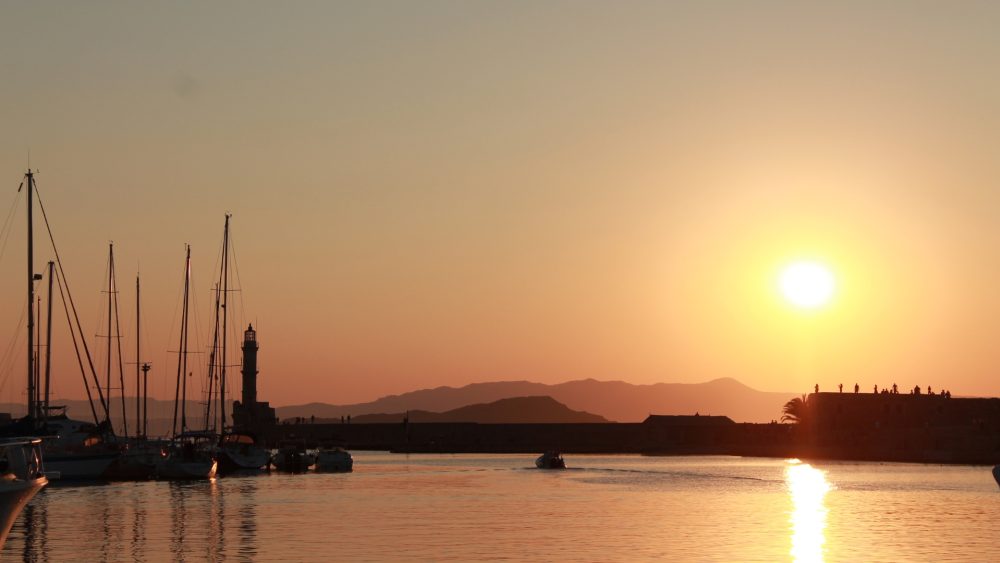 Picture by: J W Edwards
About Chania
To begin with, Chania is nestled on the western shores of the mesmerizing island of Crete. The wonderful city beckons travelers with its rich history, breathtaking architecture, and, of course, its legendary sunsets. As the sun gracefully descends below the horizon, the sky undergoes a metamorphosis, painting hues of rich oranges, pinks, and purples that cast a warm, ethereal glow over the entire city. In fact, the colors are so vivid, so intense, it's as if they've been meticulously brushed onto the canvas of the sky. Chania's sunsets are more than a daily occurrence; they are a masterpiece that has inspired artists and poets alike.
Numerous vantage points in the city offer front-row seats to this breathtaking natural phenomenon. Among them, the Venetian harbor stands out as one of the finest. Picture yourself seated at one of the charming waterfront cafes or restaurants, sipping on a drink or enjoying a meal, all while witnessing the sun gracefully bid adieu to the day, disappearing into the tranquil sea. That's why, for an elevated experience, we suggest a Chania sunset cruise! The cruise becomes a sensory voyage, a moment where time seems to stand still, allowing you to fully immerse yourself in the captivating colors of the Chania sunset.
Cruise to Theodorou Island
This is our favorite sunset cruise! As the day gracefully transforms into twilight, Theodorou Island emerges as one of Chania's best-kept secrets for witnessing the sunset. Nestled in the middle of Platanias Bay, this small islet has a rich history dating back to Venetian times. In 1574, the Venetians erected a fortress named San Theodorou to safeguard Crete from pirates and Turkish invaders, creating a historical backdrop for your summer Chania sunset cruise. Theodorou Island is a also vital protective area for the endangered Kri Kri goats. These rare creatures find refuge in the expansive sea surrounding the islet, contributing to the preservation of their species.
Adjacent to Theodorou, Lazaretta Island shares its own captivating history. In the 17th century, it served as a leprosarium center during Venetian rule, reflecting a chapter of resilience and healing. The name Lazaretta draws inspiration from Lazarus, the patron saint of lepers according to the Roman Catholic Church, adding a spiritual nuance to the island's narrative.
So, for those seeking a harmonious blend of nature, history, and tranquility, a cruise to Theodorou Island beckons. Dive into its hiking trails, feel the secluded sands beneath your feet, and witness the sun bidding farewell in a mesmerizing display. As you embark on this maritime adventure, remember that Theodorou isn't just an islet—it's a living testament to the enduring beauty and rich history that grace the shores of Chania.
If you are interested about booking this cruise with us, discover more information here.

Picture by: Jacob Lund
Explore Kalathas & Machairida Beaches
The boat trip to Theodorou Island has three distinctive cruises, tailored to your desired time and destinations. The Kalathas – Blue Lagoon – Macherida – Theodorou – Lazaretta day trip stands out, commencing at 9:00 in the morning and extending until the mesmerizing sunset.
Kalathas Beach: A Tropical Oasis Near Chania
Our journey begins at the picturesque Kalathas Beach, merely 10 km from Chania. Renowned for its popularity among those seeking a quick swim, Kalathas offers shallow, crystal-clear waters.. As the starting point of our adventure, this beach is a gateway to tranquility and a small islet awaits our exploration just offshore.
Machairida Beach: A Hidden Jewel in the Cretan Crown
Our nautical odyssey then takes us to the hidden gem of Machairida Beach, nestled 14 km northeast of Chania. Prepare to be captivated by the sea's mesmerizing hues as you enter a rocky bay that encapsulates the essence of Cretan beauty. Though the waters are deep, their clarity is unparalleled. Encircled by stunning rocks, this area remains a well-kept secret, still undiscovered by many tourists.
Join us on this journey of exploration and relaxation as we uncover the untouched charm of Kalathas and Machairida Beaches. Immerse yourself in the pristine beauty of these coastal treasures, where every wave tells a story, and every moment is a celebration of the unspoiled allure of Crete.
Taste Cretan Dishes during the Sunset Cruise 
Indulge in a culinary journey during our daily excursion! Specifically, it features authentic local meals crafted from pure ingredients and cooked with genuine passion. While our cruises are thoughtfully designed for family-friendly experiences, they also offer an ideal setting for a honeymoon trip. So, if you're seeking a special touch for your summer holiday, don't hesitate to reach out! We would love to be part of this extraordinary adventure in Crete!
Conclusion
To conclude, our team invites you to experience a Chania sunset cruise in all its grandeur. Whether you choose to witness the spectacle from the Venetian harbor or set sail on our exclusive cruise to Theodorou Island, let the beauty of the sunset be the backdrop to your perfect romantic getaway. Book your voyage with us, and let love set sail in the golden hues of Chania's twilight.