In a world of exotic beauty, Seitan Limania Beach comes to bring joy to your holidays in Chania. It is a place of unfathomable charm and grace that makes you fall in love with the island even more. Mesmerizing blue waters and fantastic views, there is not a single soul that can deny the magic of this place. One would characterize this tiny cove as among the best beaches in Chania!
Let's see why you should visit the beautiful beach of Seitan Limania during your time in Crete.

Picture by:Gatsi
How to get to Seitan Limania
Seitan Limania is a remote sandy beach, surrounded by rock formations, hidden in a canyon leading out to the Mediterranean sea. It is located about 22km from Chania and is on the northeast side of the Akrotiri peninsula. Unlike it's dazzling beauty, the name of this beach is not as pleasant. In fact, it can be roughly translated as "Devil's Ports", a name with Turkish origins which was inspired by the dangerous waves and the rugged rocks. A dark name for such a special spot. You can access this place in 3 different ways: by car, by bus or by boat. Let's see them one by one!
On your way to the beach, you will be surprised by the scenic coastal drive and endless blue colors of the sea and sky that blend in harmoniously. The views are simply breathtaking! It is undeniably a spectacular place both from afar and up-close. However, the road to the beach tests the courage and skills of any driver. It has a deep curve and the road is rather steep, making even the most experienced drivers think twice before going. You should be very careful, but if you don't feel confident about your driving skills, you can either go by bus or by boat.
Imagine witnessing the spectacular beauty of Seitan Limania during a boat trip with us, Crown Cruises Crete, on a hot summer day. There is nothing more exotic and quite alluring than experiencing the island in an alternative way! Our excellent captain will take you to spots of undeniable natural beauty, while our chef with you keep you fed throughout our trip. By the end of the boat trip, you will know all the fascinating facts about Seitan Limania Beach!

Picture by:Paopano
Tips before visiting Seitan Limania beach
Once you arrive to Seitan Limania, you will have to face yet another challenge. Specifically, you have to hike down a path that leads to the beach. It is a narrow path, without hand rails or proper steps which takes about 5 to 10 minutes to cross. Trust us, once you reach the beach and take in the views, you will forget all your previous worries. Finally, let's see a few more things you need to keep in mind:
Not organized: there are no facilities at the beach, so make you to bring everything you might need, such as snacks, water and umbrellas (there is a chance you might find some shelter beneath the rocks and cliffs and). Also, keep in mind that the setting is rugged and untouched so don't be surprised when you find wild goats roaming around the area. Who knows, maybe they will pose with you for an Instagram selfie!
Wear proper shoes: a pair of running shoes or any other type that offers protection is required. The path to the beach is rather steep and rocky, meaning that sandals or flip flops are not ideal in this case. Also, you should have a basic level of fitness, as walking down during summer heat could be difficult for some individuals.
Keep the area clean: as the beach it not organized, there are no trash bins to throw your garbage. Make sure to take everything with you, in order to avoid spoiling Seitan Limania Beach.
The goats: Moreover, the area is full of local goats that really want to eat everything you carry! So, be careful! Keep your food in a safe place.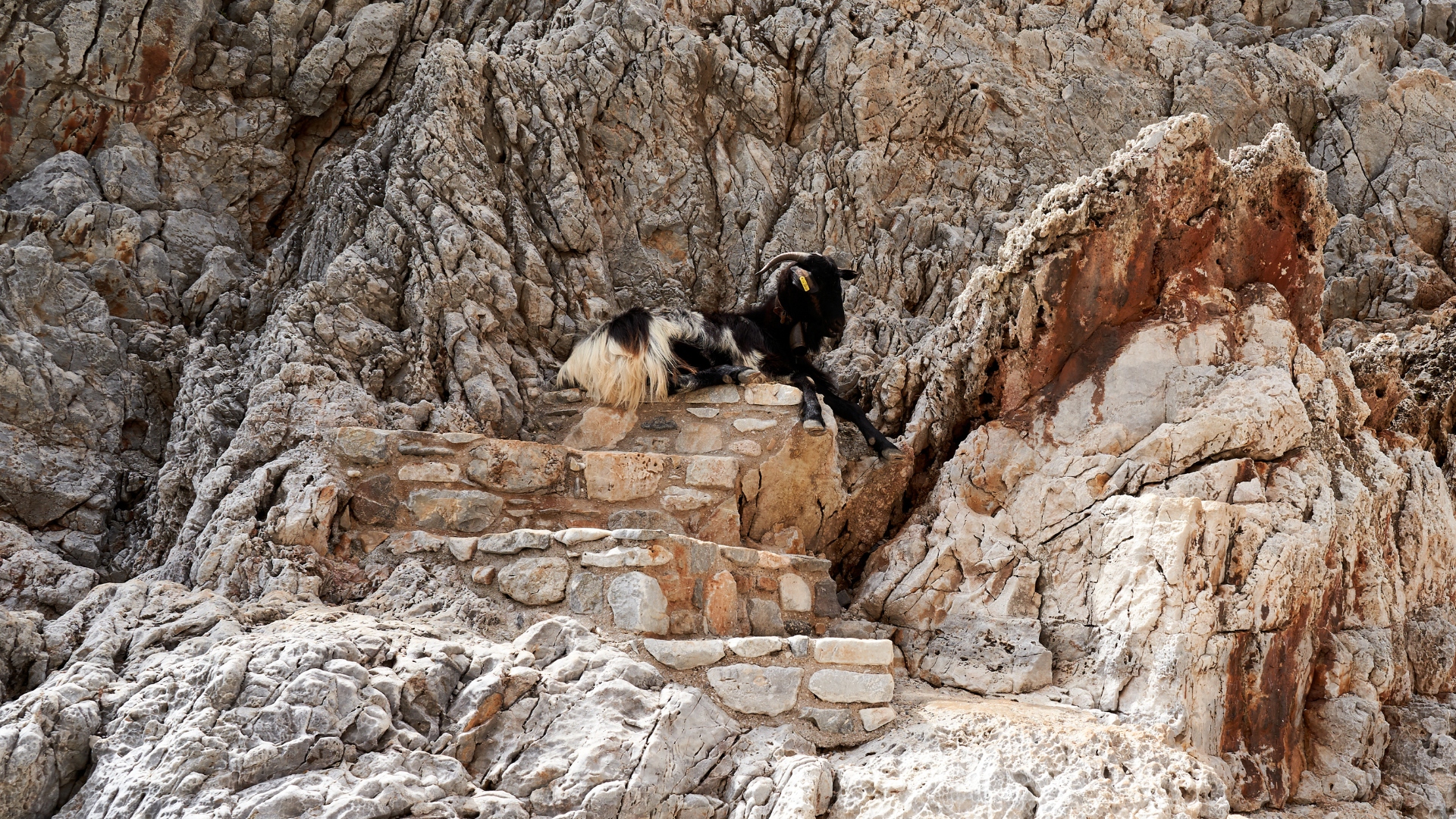 Picture by: Mindaugas Kurmis
Visit the beaches nearby
If you are planning a trip to Seitan Limania Beach in Chania, you might want to explore the nearby beaches as well. The truth is that the whole area of Akrotiri is full of amazing beaches with stunning waters and interesting surroundings. Here are some of the best beaches in the area that you should consider visiting:
Stavros Beach: Located about 10 km from Seitan Limania Beach, Stavros Beach is a popular destination for families. The beach has calm waters, making it perfect for swimming and water sports. The area is surrounded by cliffs, which provide a stunning backdrop. You will probably know it from the epic Hollywood movie "Zorbas the Greek" with Anthony Quinn. Moreover, there is a small hiking trail for the nature lovers, which ends up to a big cave overlooking the whole bay.
Kalathas Beach: Kalathas Beach is a long and sandy beach with clear waters located about 14 km away from Seitan Limania. The beach has several tavernas and cafes, making it a great spot to relax and grab a bite to eat. The waters are shallow and clean, which make it a perfect destination for a quick swim close to the city center.
Marathi Beach: A beautiful sandy beach with stunning blue waters. The beach is widely popular for families, because of its amazing soft sand and the shallow waters. Moreover, it has several tavernas serving fresh seafood.
Loutraki Beach: Right next to Marathi beach, you will find Loutraki. There are plenty of amenities available at the beach, including sun loungers, umbrellas, and beach bars. Additionally, the beach is well-suited for water sports activities such as snorkeling and paddle-boarding. A must-visit destination for those looking to unwind in a picturesque seaside setting.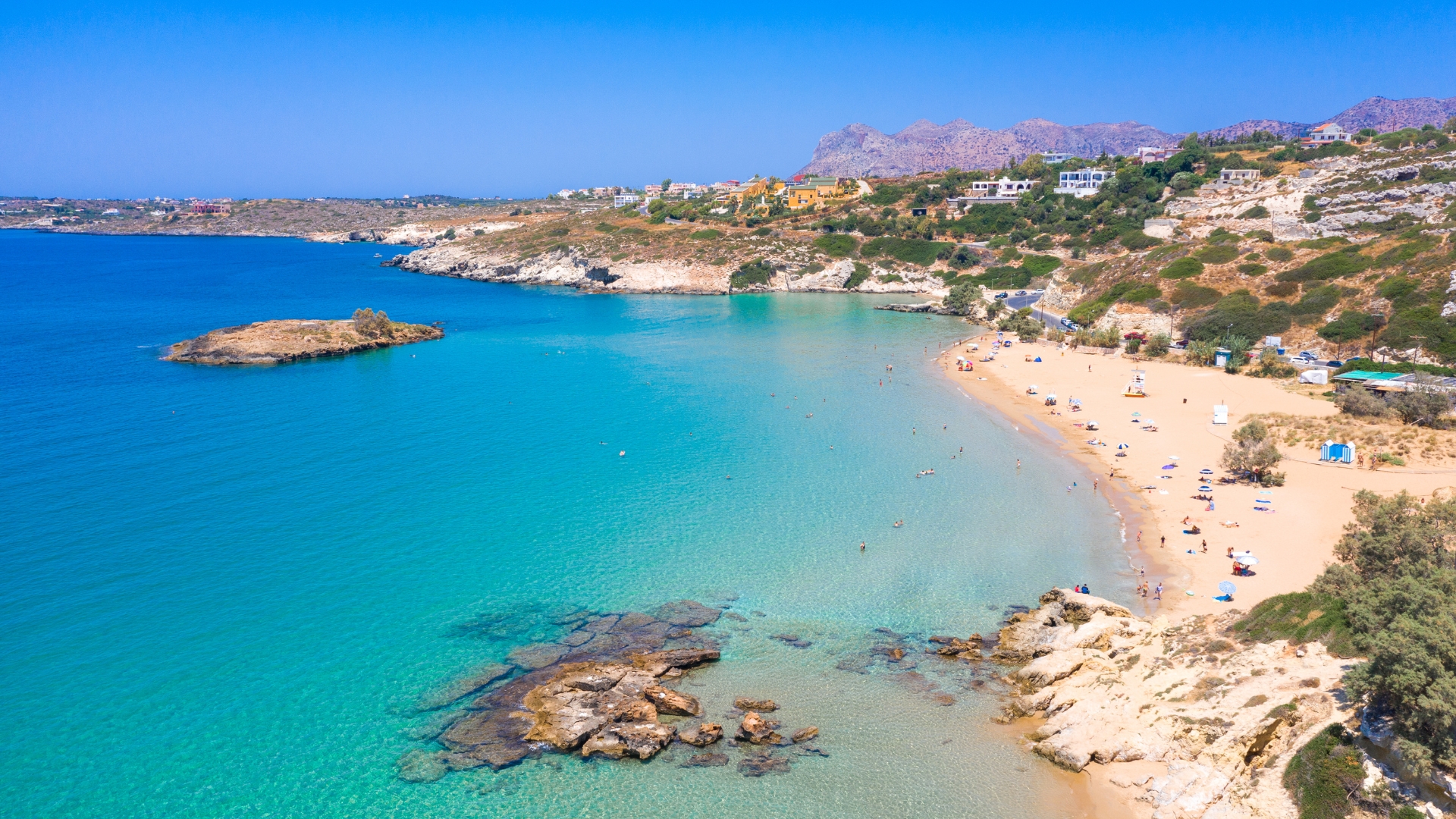 Picture by: Gatsi
Conclusion
There is no doubt that Seitan Limania Beach is nothing less than a fantastic place. A beach worth visiting and spending your time at during your time in Chania. If you enjoy boat trips and wish to visit this hidden wild beauty, don't hesitate to contact us! We will be more than excited to share with you the grandeur of Crete's nature! Experience sea life in the most luxurious way and allow us to be your humble guides.